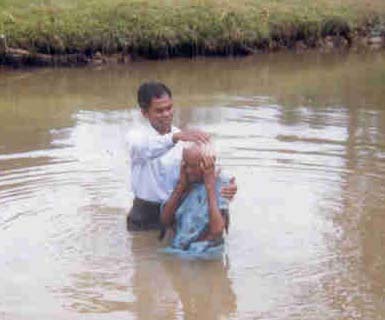 "Go therefore and make disciples of all the nations, baptizing them in the name of the Father and of the Son and of the Holy Spirit, teaching them to observe all things that I have commanded you; and lo, I am with you always, even to the end of the age." 
(Matthew 28:18-20).
Hundreds of people, many of them converted Hindus, are coming to Christ in India. Of this they witness publicly by receiving the water baptism as per the Scriptures. In the picture you can see a Hindu woman receiving water baptism.  Many former Hindus experience the fullness of the Holy Spirit in their life when are being baptized. This picture is of Pastor Deepak and Ajith in Arhara Village in Bihar, India. They were given six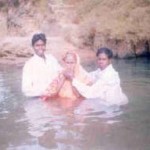 months basic training and another six months of practice with their local pastor. Now they are reaching ten villages near to their own and bring hundreds of souls to the Kingdom of God. They have planted several house churches and cell groups in these villages, which they reach by bicycle.  We want to train such young people to reach unreached villages in India.
Going against persecution
Bihar State is one of the least evangelized in India. It is also called the Graveyard of Missionaries. Many Christian missionaries, from various parts of world and India, have been martyred in this state. Now the work of God is spreading here as wildfire.
In the villages, baptisms are occurring either in rivers or in lakes. The entire church go to the baptism site, singing songs of praise and salvation and playing instruments. After baptism a feast is held in the church or at the baptism site. One can see the real joy of the church when someone comes to Christ is baptized. In the cities, baptism is given in water tanks on the church premises as there is no river or lake nearby.
An expanding work
The picture is of Pastor Synoose along with his co-worker giving baptism to a Hindu woman, who came to Christ after receiving healing for her sickness. Pastor Synoose wants to expand his work to other parts of Karnal, so he is praying for a motorbike, church tools and a DVD player by which he can show Jesus films. We request you to please uphold the work of our missionaries in the various parts of India. We pray for a few more bicycles, Gospel tracts, Bibles, musical instruments and church tools for our Evangelizing teams and newly planted Churches and Home cells. If you are interested to be a part our ministry, and maybe visit India and have fellowship with our people, please write to us at gospelindiamission@gmail.com. We thank God for your precious visit to this website, please let us know your thoughts.