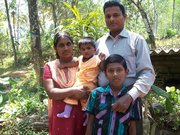 Harpur, a village in Bihar state, of north-east part of India, heard about the name of Jesus for the first time when Pastor Daniel arrived in June, 2012.  It was difficult for him to help villagers understand that Jesus is Lord. To them, a god is a statue or a picture placed in a temple or below the banyan tree etc. The language, food, people and culture were new to Pastor Daniel, but he simply obeyed the word of God and went to Harpur village, leaving his own people and life in order to do God's work in this remote village.
How to reach them
There are close to 650.000 villages like Harpur in India. Reaching these villages is a real challenge, as there are no proper roads, hospitals, schools, drinking water or electricity, etc.  One needs to have a real commitment and dedication in order live in such villages, if you are accustomed to living in a city or a town.  Bicycles are one of the best travelling tools to reach the villages of India. Two gospel workers can travel on one bicycle. They carry Gospel tracts, New Testaments and Bibles at least 20 to 25 kilometers to visit homes, shops and individuals, sharing the love of Christ. We pray for more bicycles to be provided to our Gospel workers. One Bicycle costs Rs. 2,000 to 2,500 (USD 50 to 52).
The challenges
Illiteracy, child marriage, lack of schools, hospitals and public transportation etc. keep these villages
from developing. Witchcraft, animal sacrifice and doing pujas (worshiping idols) is the only way they believe they can solve the various problems of daily life. They are Hindus, but are called untouchables, and this hinders them in getting any real government facilities.
In training
Nandu (in blue shirt) and Chandu (white shirt) in the picture (left) are some of the young people who have come to Christ through our pioneer Gospel work in a village in Maharashtra (central part of India). We put these brothers in our literacy classes done by our Gospel workers, and after the basic study, they became a great help for evangelizing their village. These brothers completed their one year basic Bible study and are doing the work of God in their own village, and that resulted in the startup of five prayer groups and a church. Praise the Lord!

Baptism
According to the Great Commission of our Lord Jesus Christ, we give water baptism to them that believe in Him. All believers in the church along with the baptismal candidate go to the near-by river for baptism.
We are so excited when we see that people happily accept Jesus. As young people come to Christ, we give them training from the Bible so they can become witnesses to their own people.  These young people are helpful for us to reach to the neighboring village also.
A place of worship
We pray for God to provide us with money for constructing churches in these villages. With Rs. 40,000 (USD 888) we can get a small piece of land and construct a church were at least 100 people can come together for worship.  Wherever we have such churches, we conduct literacy classes for women, children and aged people. We also give free medical check-ups and vocational training on sewing and embroidery, and provide sewing machines so people can start businesses from their home. One sewing machine costs Rs. 6,000 (USD 133).
More solid buildings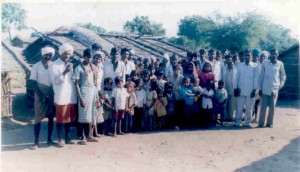 Many of the churches in the villages are constructed by the help of local believers with great zeal. Still, the fact is that many of these churches cannot withstand the rain and wind that hit during the rainy season. We pray to God that he will raise up support partners for us to help constructing more robust churches in these villages.
We also want to invite our prayer partners to come and see how these people are worshiping the Lord in Spirit and truth. They are poor, but not spiritually. They also do not demand the best comfort in life, but want to lead a peaceful life in the love of God.
If you are blessed by God and willing to see that the Kingdom of God grow, please pray for us and become a partner for our ministry to reach the many lost souls in the Indian villages.
May God richly bless you.
Santhosh